Mountain Loom Online Catalog
[ Home | Looms | Kumihimo | Books & Videos | Referrals | Dealers | Price List | FAQ's | Ordering & Contact | About MLC | Our Scrap Book ]
---
All pricing shown on Price List.

Table Looms...

These looms are perfect for the hobbyist, workshop, teacher, professional weaver and traveler. More information ...

Transportable Floor Looms...
Transportable floor looms offer all the features of a table loom mounted on a loom stand with foot treadles. Both the foot treadles AND the hand levers can be used alone or in any combination...A great tool for creative weavers. More information ...

Tapestry Looms...
This is one of the handiest tapestry looms ever made. Tough and sturdy, beautiful maple wood construction, folds flat with warp on for storage and travel. More information ...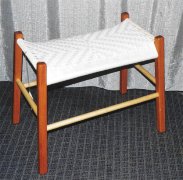 Loom Benches by Walter Turpening
These benches are one product that we just couldn't improve upon. If you want to sit in comfort and style while you weave, you absolutely must take a look at Walter's fantastic seating equipment. More information ...
Kumihimo Equipment, Supplies, Silk and Variegated Silk...
We manufacture the very best Maru Dai and Tama "safety" sealed-lead bobbins available anywhere. We also carry Kumihimo supplies - from Japan: pure silk thread and sample cards, books, Take Dai, and Aya Take Dai stands. Get started exploring the world of Kumihimo braiding today! More information ...
---
[ Home | Looms | Kumihimo | Books & Videos | Referrals | Dealers | Price List | FAQ's | Ordering & Contact | About MLC | Our Scrap Book ]