The Scrapbook
[ Home | Looms | Kumihimo | Books & Videos | Referrals | Dealers | Price List | FAQ's | Ordering & Contact | About MLC | Our Scrap Book ]
---
These are just some photos of recent "goings on" around Mountain Loom Company that you might find amusing and interesting. This page will change from time to time. If any readers would like to contribute an appropriate photo, please email to custserve@mtnloom.com. Thanks!
NOTE: CLICK ON ANY PHOTO TO ENLARGE
WINTER 2004
A rare 15" snowfall in Southwest Washington, January 2, 2004. We all went out to play in the snow with the dogs, Wallace (the little one) and Gromit (the big one).
SPRING 2003


John & Rebecca in front of the Columbia Theater.
Rebecca plays her flute in the Longview Youth Symphony and John volunteers his time to assist the players in the Trumpet section. He plays a pretty mean trumpet himself.

Mother's Day: Rebecca, Irene & Joyce; John & girls;
and Barb enjoying her "cuppa" and her new business Jolly Good Tea & Gifts
WINTER 2001-2002:

It's winter at White Pass, just a ways up the road from Mountain Loom Company.
Barbie and Joan (John's mom) share laughs on Xmas day.
Rebecca gets a gift!
Irene and Joyce are figuring out that new toy.
Irene and Rebecca after a day playing in the snow.
Easter, 2001:
The gang leaves sunny Washington to go to Disney's California Adventure in the rain...
Happy Easter from Rebecca and Irene!
AROUND THE SHOP, Winter 2000:
That's Irene, Gromit (big dog), Wallace (Little Dog)
Barb & Joyce enjoy a visit with Father Christmas at Leavenworth, Washington.
Your Fearless loom-maker enjoys a sunny winter day at Leavenworth, WA.
Rebecca & Irene, future weavers, share a moment in front of the Christmas tree.
ATLANTA 1998 CONVERGENCE:
"THE" Nancy Harvey teaching a class using MLC Tapestry Looms.
MLC Tapestry looms in class at Atlanta '98.
John poses with a folded transportable floor loom on a HOT Sunday afternoon.
CHERRY BLOSSOM FESTIVAL APRIL 1999 AT SAN FRANCISCO:
Mrs. Kazuko Hirai and Barb Mack watch Cherry Blossom Festival in San Francisco.
Mrs. Kazuko Hirai and Kimiko Shintaku wear beautiful kimono with kumihimo obi.
Lots of MLC marudai are used at kumihimo demostration. This is a big hit with kids.
This is a kakudai being used to braid another obi.
A large takadai is being used to make a flat braid.
A close up of the braid project on the takadai.
BARB'S TRIP TO JAPAN NOVEMBER 1997:
Barbara receiving training on the ayatakedai in Mie, Japan.
A fantastic Japanese doll made completely from kumihimo silk braiding.
The Hirai family, suppliers of Obashiya silk to Mountain Loom Company. That's Ayako, Motoki, Kazuko, and Matsuji (left to right).
Mr. Kenkichi Hirai (Matsuji's father) is busy winding out lengths of silk thread.
This is an example of the ayatakedai.
Mrs. Hirai at work on the large takadai.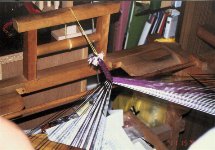 Close up of the beautiful braid made on the takadai.
---
[ Home | Looms | Kumihimo | Books & Videos | Referrals | Dealers | Price List | FAQ's | Ordering & Contact | About MLC | Our Scrap Book ]