About Mountain Loom Company
[ Home | Looms | Kumihimo | Books & Videos | Referrals | Dealers | Price List | FAQ's | Ordering & Contact | About MLC | Our Scrap Book ]
---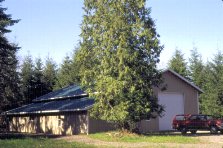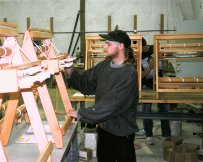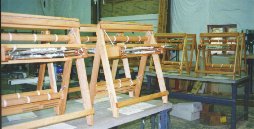 Mountain Loom Company was started in 1985 by Larry and Sheila Sutherland in Rock Creek, BC, Canada. In 1993, Mountain Loom company was purchased by John and Joyce Anderson. Since then, the Company has found a new home near Vader, Washington - and we have been building up the new company every day since then. We are a small family-owned business and try to treat each customer as part of the extended family of weavers.
Mountain Loom Company moved into our new 7,000 square foot. shop building in 1995. We are located in the woods about halfway between Portland, Oregon and Seattle, Washington within sight of Mt. Rainier, Mt. St. Helens and Mt. Adams. This year, we have added tremendously to our shop equipment, replacing and upgrading several worn saws, shapers and drill presses, as well as adding a complete new machine machine shop. In addition, we have added a new large diesel generator system so we are much more "storm-proofed" against electrical outages.
At any given time we employ several skilled craftsmen who work very hard at giving each loom quite a bit of "attention to details". Our craftsmen take great pride in making sure each loom is as perfect as possible before it leaves the workshop.
Company Owners: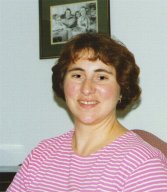 Joyce Anderson mom to Rebecca and Irene. She's the one who you'll most likely talk to when you call Mountain Loom Company. If you hear the sound of a tour guide in her voice, that's just because in her previous life she was a tour guide and hospitality manager at Beaulieu Vineyard Winery in Rutherford, California. She is a 1984 Social Sciences graduate of Cal Poly, San Luis Obispo, California.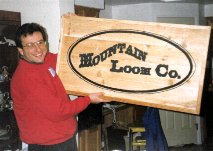 John Anderson is the company loom designer, professional pyrotechnician, cook and bottle-washer. He has a long background in developing industrial machines, control software and computer vision systems. He is usually in trouble with Barb or Joyce or the shop guys. But aside from that, he works hard at designing the next big loom project or doing software development. Turned loose, you'll find him a) Entertaining a daughter or b) Chasing down an old steam train somewhere or c) Figuring out next year's Fourth of July fireworks show. John is a 1985 Electronic Engineering graduate of Cal Poly, San Luis Obispo, California. NOTE: The nifty shop sign in the photo above was handmade by our niece Tina, who appears in the Transportable Floor Loom photos.
Barbara Mack is the kumihimo artist-in-residence. Being a licensed nurse and professional pyrotechnician, she is automatically required to wear the Chief Medical Officer hat. When she isn't busy filling orders for her business, Jolly Good Tea & Gifts, she can usually be found out in the garden tending the flowers, veggies and herbs. You can also find her in the kitchen cooking up a storm (of the tasty variety). Her special interest is cooking fancy Japanese specialties. Barb is a 1987 nursing degree graduate of Clover Park College in Tacoma, Washington. www.jollygoodtea.com
---
[ Home | Looms | Kumihimo | Books & Videos | Referrals | Dealers | Price List | FAQ's | Ordering & Contact | About MLC | Our Scrap Book ]